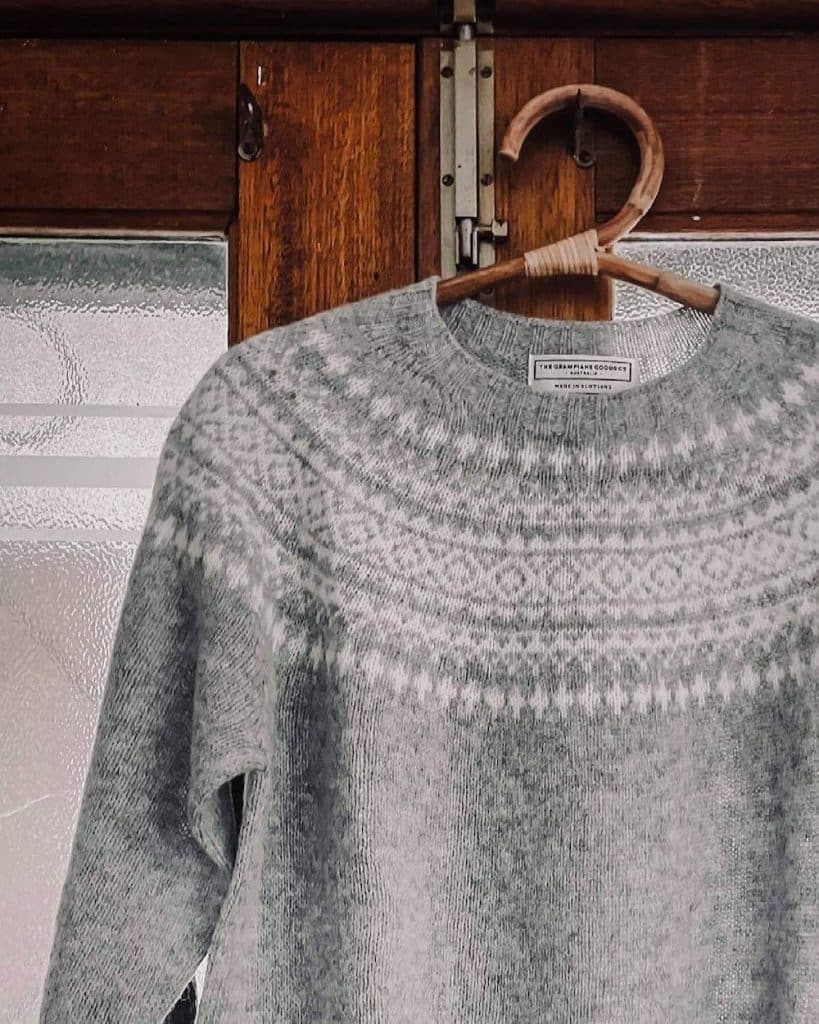 Why Wool Pilling Isn't a Sign of Poor Quality
Pilling is a natural, inevitable occurrence amongst products that are made using wool fibres. Unfortunately, there are a lot of misconceptions out there about wool pilling, as well as wool washing and wool care. We're here to bust some of those myths out of the water, so you can spend less time worrying about your sweater pills, and more time snuggling up on the couch in your high-quality, super soft, super warm wool garments.
---
What Is Wool Pilling?
Pilling is when small, fluffy balls start to form on woollen clothing and items that receive some 'wear and tear', including rubbing or repetitive friction.
Pilling on high quality woollen clothing, blankets or cushions can look a little shabby, and it tends to alarm owners expecting a more robust, durable item.
Pilling tends to concentrate in certain areas of a product that receive more of that friction, like the armpits, the back (especially if you often wear it whilst seated), and the sleeves (particularly around the wrists).
In blankets and cushions made from wool, pilling will often occur on the side that is faced down more frequently, especially if placed on a tougher surface such as in an outdoors setting. It's all about the levels of abrasion and friction.
Pilling will also occur more frequently depending on how vigorously the woollen item is used or handled. If you wear your sweater during vigorous activities, such as gardening or exercising, you might find that pilling occurs faster and more often.
Remember, Pilling Won't Happen Forever
Pilling isn't a 'forever thing.' In fact, after a few wears, pilling will happen less and less over time, as the loose fibres made their way to the surface.
Later on, we'll discuss how you can accelerate this process by caring for your new wool garments during those initial few wears.
Which Types of Wool Pill the Most?
In new garments, shorter fibres (known as 'short staple')—such as the superfine grade lambswool used in our sweaters—are more likely to pill than longer fibres.
This is because these softer, more luxurious short staple fibres must be gently twisted when they're spun into woollen yarn, in order to preserve soft feel and light weight.
This means that some degree of pilling in products made with these yarns is inevitable in the early stages of the garment's lifecycle.
It is simply a natural (and very normal) occurrence on a new knitted garment as the extraneous loose fibres in the twist shed during the first wear of the garment.
Merino wool and Shetland wool are great examples of this in action.
Shetland fibres, being shorter than Merino fibres, will pill more on the first few wears.
Learn more about the differences between Merino and Shetland wools
What Does Pilling Really Mean About Your Wool Garment?
Now I hear you asking, 'why is my high quality woollen product pilling… is this normal or have I been sold a dud?'.
So let me say this plainly…
Pilling is NOT a sign of poor quality wool, but is in fact the exact opposite.
It's actually one of the biggest myths when it comes to the quality level and durability of wool garments.
The truth is that premium yarns like wool are often spun quite differently to their lower cost and lower quality synthetic cousins, which is why pilling occurs.
The more loosely spun a yarn, the more luxurious it tends to be, which allows fibres more opportunity for friction and in turn, pilling.
And as mentioned, shorter fibres such as Shetland wool fibres, are more likely to pill because there are more small ends which are exposed to the abrasion with regular use.
Again, this doesn't mean that shorter fibres are "poorer" quality, but it means that the particular garment or woollen item required shorter fibres within its production process.
How to Prevent Wool Pilling
Now we know that pilling is not a sign of a poor quality garment or product, you're probably still wondering how you can avoid them?
No one likes an untidy-looking sweater, so don't worry, pills are easily removed.
And, as discussed above, you'll only need to do remove pills at the beginning of your garment's life. Once all of the loose fibres have risen to the surface through initial use, pilling won't occur.
We'll go through how to care for your wool garment or item in a moment, but first, here are some tips for minimising the amount of pills and the likelihood of getting pills.
Follow washing instructions carefully
Firstly, when you're washing your clothing or items, make sure to turn them inside out before washing, if possible.
The machine wash is a fine option when using gentle settings—cold, delicate or wool wash settings—but you could also try hand washing your garments completely.
Secondly, don't use fabric softeners or conditioners on your wool garments.
Rather, opt for a wool-specific detergent.
Why? Because fabric softeners or conditioners are meant for synthetics that don't absorb liquids, whereas wool fibres will absorb the product, affecting the natural wicking properties of your woolen garment and 'clogging' up the beautiful, natural fibres that are so good at keeping you warm!
Thirdly, consider whether your item needs to be washed at all!
Unless you've been bathing in a mud bath (whilst wearing your sweater!), you probably don't need to wash your woollens.
Fun fact: wool is naturally stain-resistant and also resistant to body odours!
So, why not try simply airing it out and lightly spraying with a wool freshener?
Your garment will come up beautifully!
Finally, dry your woollens flat, either on top of a lint-free towel or a clothes-drying rack or drying-horse.
Careful and considered use of your wool item
And thirdly, if you can, try to minimise the friction and abrasion that your garment or item has to endure.
Often, sweaters will show abrasion pilling around the cuffs, the base of the back and the underarm. You can avoid this by avoiding wearing your sweater underneath jackets with synthetic linings, and also being careful of the surfaces that your sweater rests upon while you're wearing it.
Wearing a protective layer over the top of your sweater if you're working outside, can also be a great way to prevent abrasion.
Obviously taking these precautions won't always be possible—but when you can, we recommend it.
By taking some preventative measures, you can reduce the pilling on your garments, but let's look at what to do to care for your garments and remove pilling.
How to Care for Your Wool Garments and Remove Pills
So, while you can't completely avoid pilling in some high quality wool garments, you can remove the pills extremely easily.
It's similar to a new wool carpet—when loose fibres come away, we vacuum it right?
Well, it's the same with your wool garments, and it's no reflection of the wool quality.
Removing these excess "pilled" fibres and will settle once the garment is in use and excess fibres are shed, so you won't need to do this forever—just at the beginning.
There are a few ways that you can do this; by hand, with a sweater comb or with a handheld electric device.
Care by hand
By hand is actually extremely meditative—how about some mindful de-pilling! You can either do this ongoing, whenever you notice pills, or after a wash.
If you notice that the pilling is more extensive, hand removal might not be an option. Not to mention—do we have time for that? Probably not!
Care by comb
This is where you might consider the second option; using a simple sweater comb, sometimes known as a 'wool comb' or a 'cashmere comb.'
These are easy to use, but depending on the make, can be a bit rough, so if you choose to use this method carefully follow the detailed instructions in this video and do so at your own risk!
Care by handheld electronic devices
The third option is our pick—grab yourself an electronic handheld "de-piller" or "fabric shaver".
They're a cheap investment—this one's only $18—and they'll keep your garments looking new.
This is the quickest, easiest and most reliable way to remove pilling and keep your woollens in tip top shape!
The GGCo. Promise for Our Wool Products
We offer high quality and durable wool products that are versatile, luxurious and intended for country life in the outdoors.
Our Fair Isle knits are made from 100% pure supersoft shetland wool (sourced from a Scottish spinning mill dating from the late 18th century), while our blankets, pillows and hot water bottles are made with a recycled wool blends; 75% recycled wool and 25% mixed fibres.
We only design, source and stock the very best, so when we say that our woollen garments are high quality, we truly mean it.
We're passionate about debunking the myth that pilling means poor quality—it simply isn't true and any skilled knitwear artisans will tell you as such.
Plus, GGCo. strives to be a responsible, eco-conscious brand in every step of our processes and offerings. We believe that buying less often, but better quality, is key to moving away from today's throwaway culture.And that's why we love designing and providing products made with wool; a natural, renewable and biodegradable resource.
---
Image credits to Georgie Mann Photography, Tim Bean Photography, Clancy Paine (nee Job), Jemma Thompson, Pollyanna Guthrie, Nathalia Crabtree, and Little Wild Love Photography.